Parking Equipment 5t VVVF Heavy Cargo Elevator with Gearless ARD
Traction or Hydraulic Standard Quality 3t 5t 3000/5000kg Car Elevator Lifter
Parking Equipment VVVF Heavy Cargo Elevator with Gearless ARDStandard or customize 3000kg/5000kg Freight Lift Car Elevator
APSL China Top Brand Manufacturer for Villa products
Speed 0.25-0.5m/s
Usage: for cargo goods freight transportation
The firm and durable car-cabin
Machine room and Machine roomless

The new-generation frequency conversion technology and permanent magnet synchronous tractor can reduce vibration and noise during elevator operation, improve transport efficiency and reduce operating power consumption. Suitable for shopping malls, hotels, factories and public transportation. Car elevator designed for non-commercial use for vertical transport between buildings be widely used in automobile 4S shop, garage, stereo parking and other places.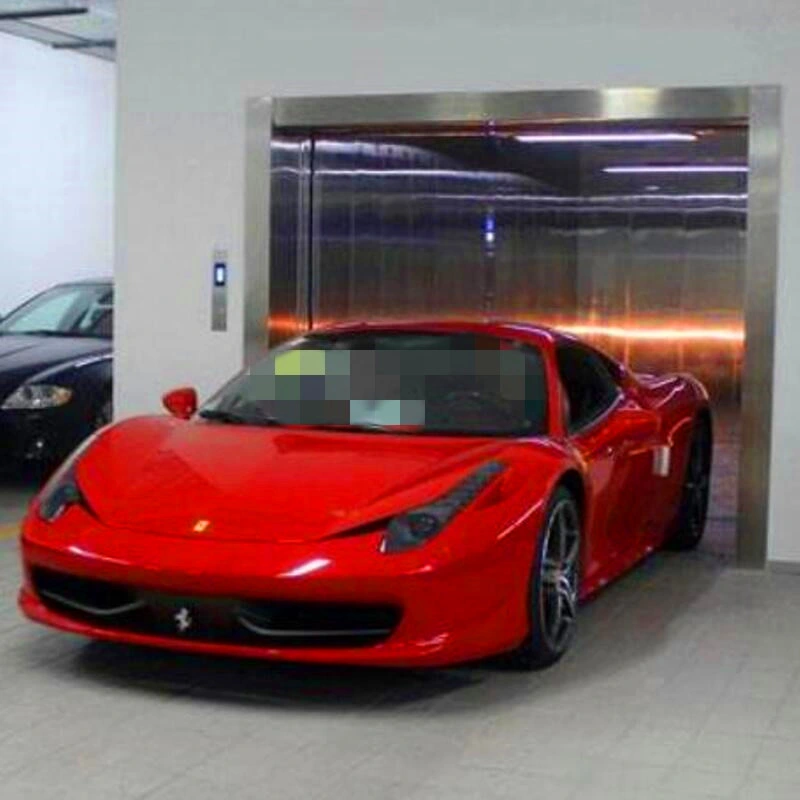 APSL ADVANTAGES
The Car elevator adopts the highly mature VVVF control technology, which is controlled by the special frequency converter with extremely accurate speed regulation, which greatly improves the running stability and saves energy. The new low noise module installed in the reverse fixture makes the operation more quiet and enables the car to enjoy the best service on the way up and down.
APSL Car elevator has the characteristics of safety and reliability, stability and comfort, and high level precision. In view of the two main points of insufficient stiffness and large torque in the general car ladder, the overall structure is designed from the perspective of decomposition torque, and the elevator guide rail is added to the whole ladder, and the symmetrical four or six guide rail is adopted to guide the ladder, which not only improves the overall stiffness of the car but also reduces the torque, thus solving the unfavorable factors of the car shaking. The door is equipped with a reliable light curtain protection device to ensure that your car can safely enter and exit without abrasion or collision accidents.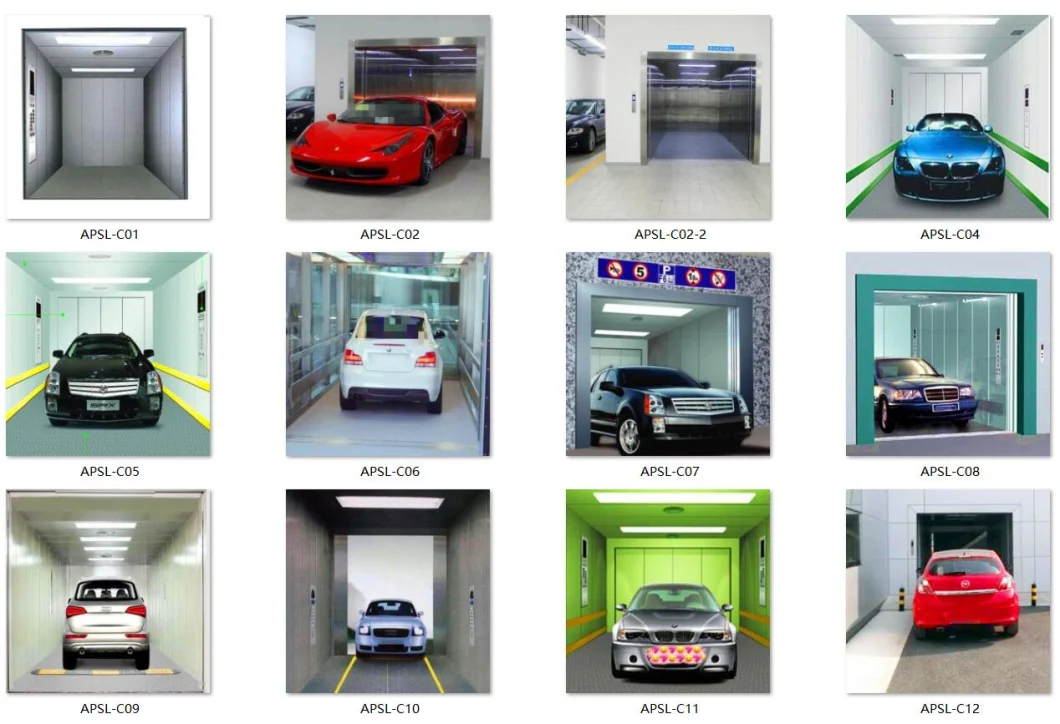 APSL CARGO GOODS ELEVATORS - The firm and durable car-cabin APSL China Top Brand Manufacturer
SUZHOU . JIANGSU . CHINA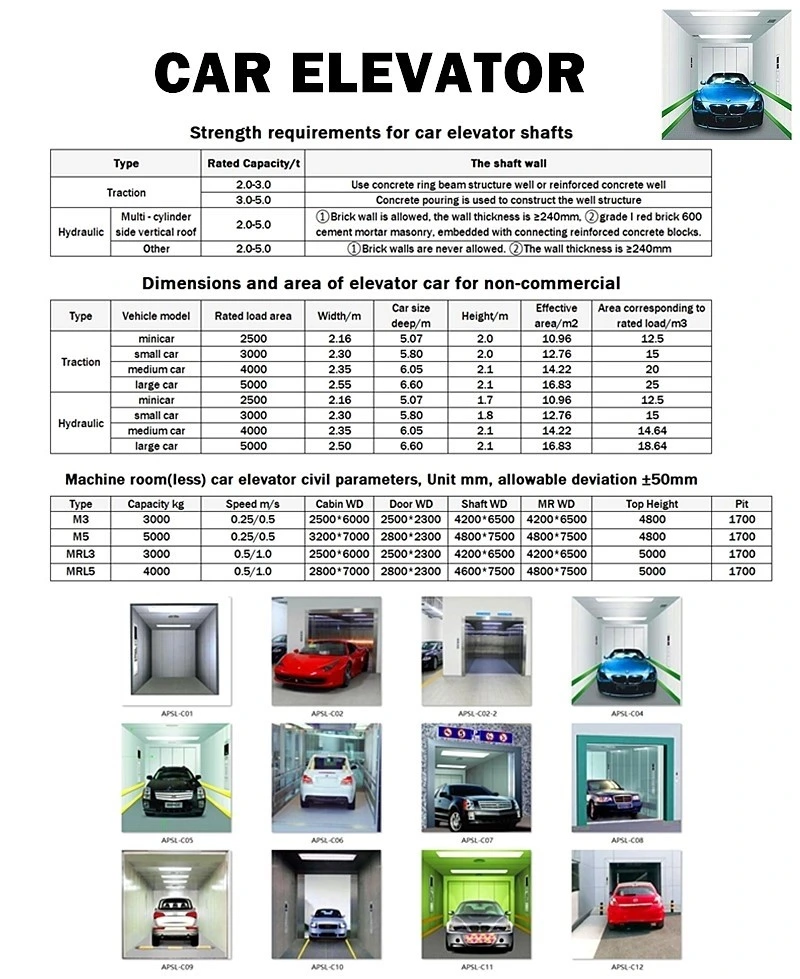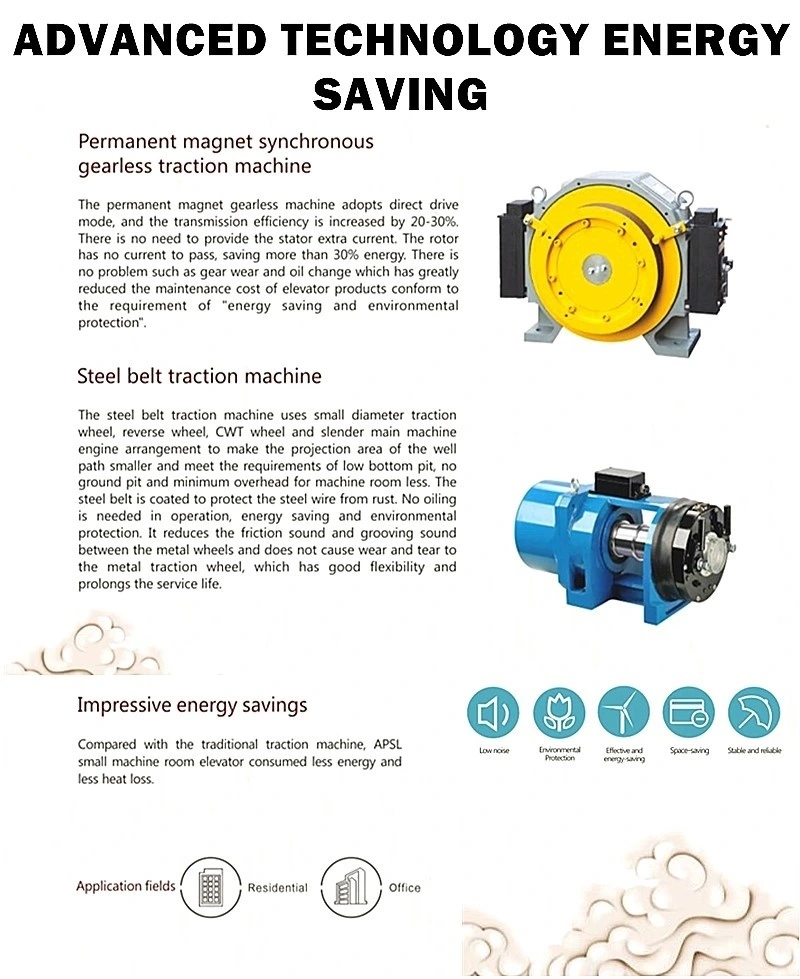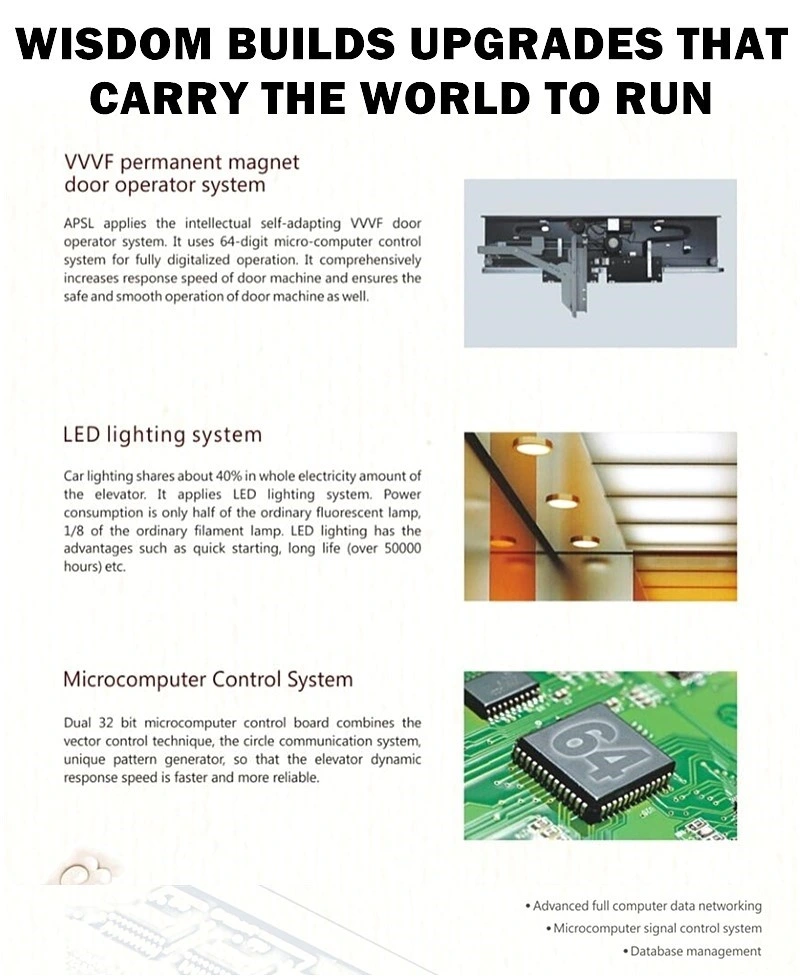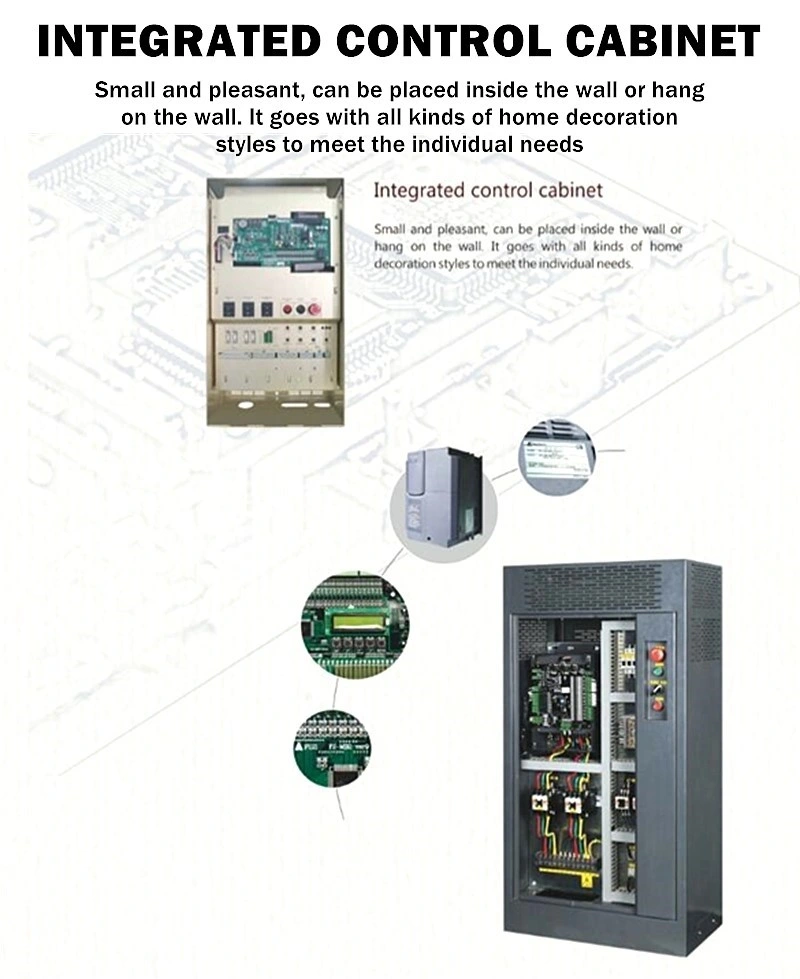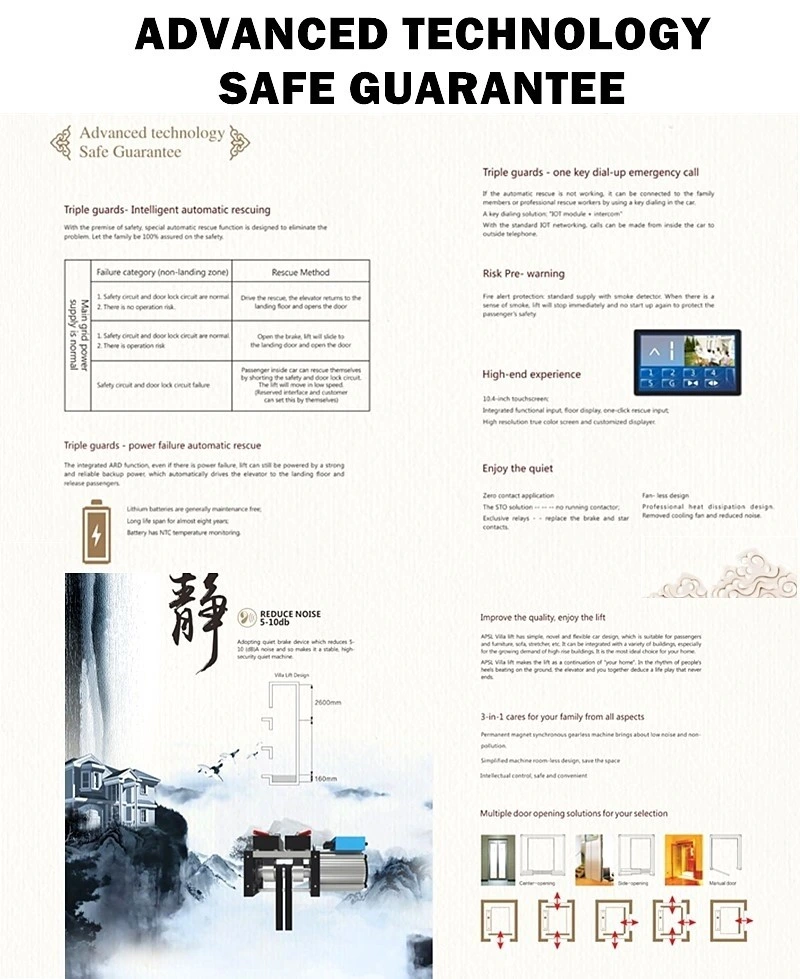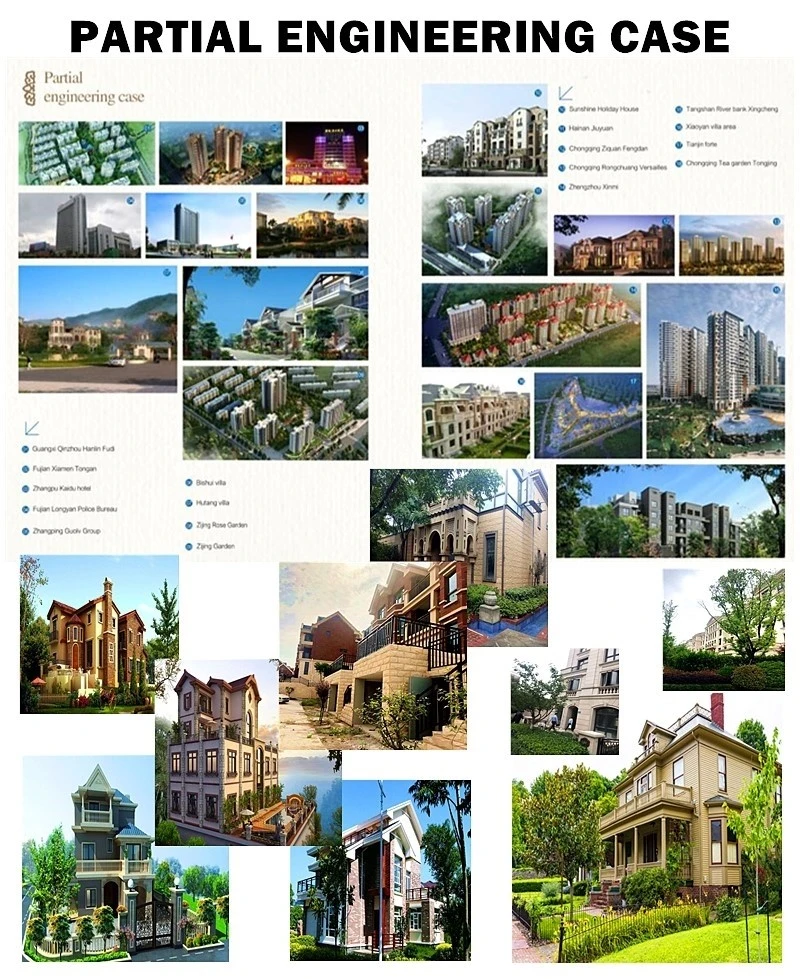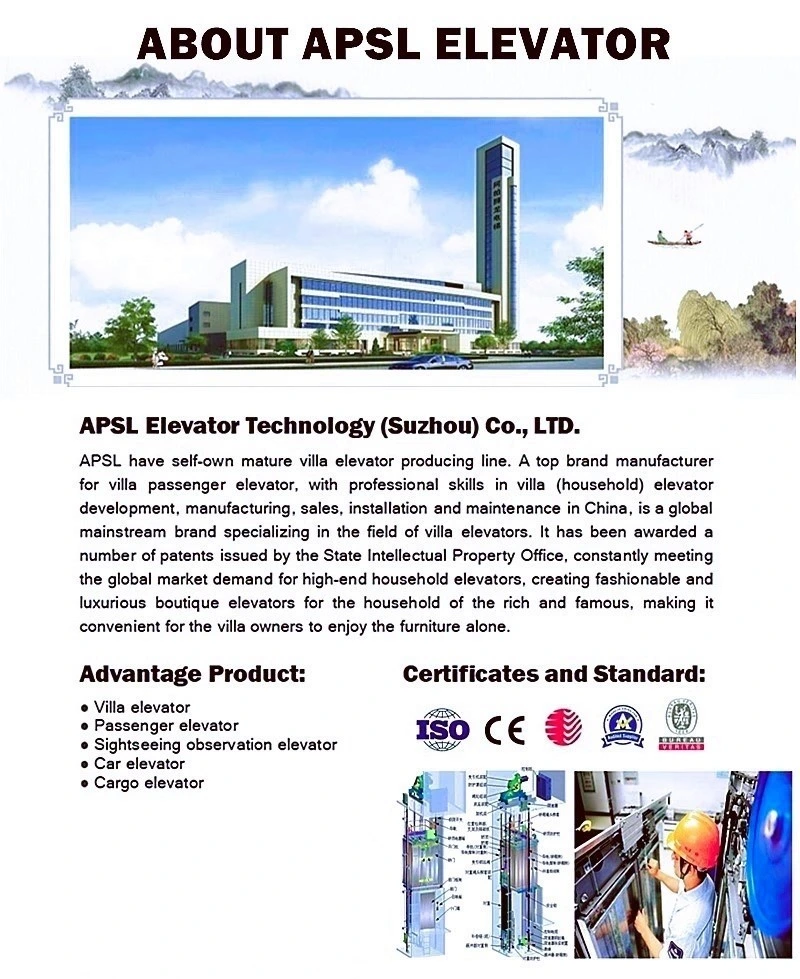 The year 2020 was not easy for everyone. we continue to provide our best products and services to our agents and distributors everywhere with good price. And thank you for your past brilliant achievements! In addition, due to the increase of orders, the delivery cycle has been postponed from 15-30 days to 40 days. Please pay attention to order in advance. Elevators make life more convenient!
Capacity: 250/320/400/450/630/800/1000/1250kg
; loading 1-5 passenger, 6-8 passenger, 16-20 passenger;
3000kg/5000kg for car lift
Rated speed: 0.4m/s, 1.0m/s, 1.75m/s, 2.0m/s, etc.
Control mode: CSC
B
rand name FU JI APSL
Certificates: CE ISO AS
Standard or customize, OEM ODM
> Villa elevator
> Passenger elevator
> Sightseeing observation elevator
> Car cargo goods auto elevator
China good villa passenger elevators
lift
manufacturer plant supplier
Online technical support
for house home residential hotel commercial apartment elevator lift .
China panoramic elevator manufacturer and supplier can also supply elevator lift hoist
.
Graphic design Lift for disabled people
and elevator components free and cheap beyond warranty.
I
nside outdoor exterior construction villa residential hotel commercial totally solution for project
.
VVVF Hydraulic or traction small Machine room or MRL elevator lift for 8 passengers more or less
E
levator
lifter
accessories
ceiling handrail floor led light curtain door protection
COP push button assembly bucket hoist emergency phone lighting power supply rail guide hook control etc
hairline stainless steel etched grain mirror titanium rose
champaign
gold
black titanium or optional
Our villa home passenger elevators and auto car cargo goods lift elevator have been exported to worldwide though we just start open in MIC. Elevators to Thailand, Vietnam, Russia, Australia, Egypt, Dubai, India, Pakistan, Saudi Arabia, Singapore, Ireland, Slovakia, Philippines, Slovenia, etc. ...
APSL elevator have very mature villa passenger elevator production line.
APSL as OEM ODM manufacturer, one year free warranty is given by as the regular manufacturer.
Promise at will, 5 years quality assurance, 10 years quality assurance, etc. No.
APSL absorbs the advantages of European, American and Japanese elevators
, elevators emphasize safety, comfort, high efficiency, low failure rate and long service life.
It adopts advanced permanent magnet synchronous no gear tractor technology, and has professional experience in the design and manufacture of high-quality private elevators.
Installation and in the research and development of the use and draw on the world's advanced technology, product quality (such as the use of excellent performance control system, tractor and door machine system, etc.) on the raw material requirements are higher.
In real life there are more and more people like to live in a villa, so what is the minimum size of villa elevator?
Usually there are not many people living in the villa, so from the point of view of the smallest size, it can only accommodate three people.
In the middle of the installation of the elevator, the size, usually need to be calculated according to the load, the general villa is 3 to 4 storey high, the load is below 400 kg, the size of the well can be 1500mmX1500mm, the height of the top floor should also be in 2700mm, this is a relatively standard size.
The technical specifications of residence elevators are quite different from those of public passenger elevators: for example, the load cannot exceed 400kg, the speed cannot exceed 0.4m/s, the car area is less than or equal to 1.6 square meters, and the lifting height is less than or equal to 12 meters.
APSL ENHANCE QUALITY ENJOY LIFE
Products for villa
SUZHOU JIANGSU CHINA