We are a factory in Shandong,China!!!!!!!!!!!!
Important things need to add a few exclamation points
Product Description
shandong factory quality slogan elevator building lifte rope wire
Our construction elevator (lift, hoist) is also called outdoor construction elevator, which is driven by pinions & racks devices and with safe & comfortable cages. It can lift both construction materials and passengers. It bases on its mast fixed in the ground and attached to the wall, which ensure its safety


Salient Features of building hoist overhead crane lifter machine part elevator
1. Mast section welded by welding Robot ensures reliable quality and elegant appearance.
2. All the steel structures are processed with blasting technology to remove rust. The adhesion of surface painting is outstanding.
3. Suspension cage guarding board adopts figured aluminum plate and numerical control punched aluminum plate. The suspension cage is lightweight and artistic in appearance.
4. Transmission mechanism supplied by the professional manufacturer has high efficiency, long service life and stability in performance.
5. Complete set of overload protection devices, variety of limiters and mechanical chain devices ensure its reliability. Anti-falling safety device, which restricts the excessive downward movement of the cage, preventing and eliminating accidents.
6. Frequency conversional construction elevator is safe, stable and comfortable. Starting electricity is smaller than working electricity, energy-saving and high efficient.
1. Production process:
Strict material selection- blanking- inspection - welding- inspection- Blasting - inspection -Baking finished or galvanized- inspection - Finished Product
2.
The product can be customized according to customers'requirements
(drawing, specifications and so on).
A.C

age Details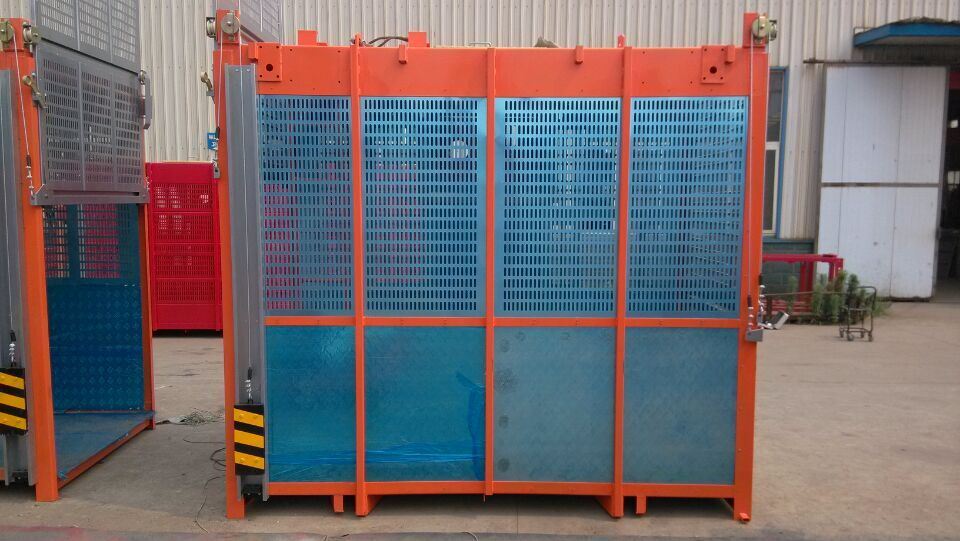 1.The cage is boarded up by all punched aluminum sheet ,Sidewall of Wire Mesh for cage is also available. The size can be arranged to your requirement.
( Optional Size:3x1.5x2.1m, 3x1.3x2.1m, 3.2x1.5x2.1m, 3.2x1.3x2.1m, 3x1.5x2.4m, 3x1.3x2.4m, 3.2x1.5x2.4m, 3.2x1.3x2.4m)
2. Main structure of cage is made of high-quality steel afterbending.(The bent steel is firm, good vertically, stability. Moreover it ensure stable of the whole structure.)
B. Specifications about mast section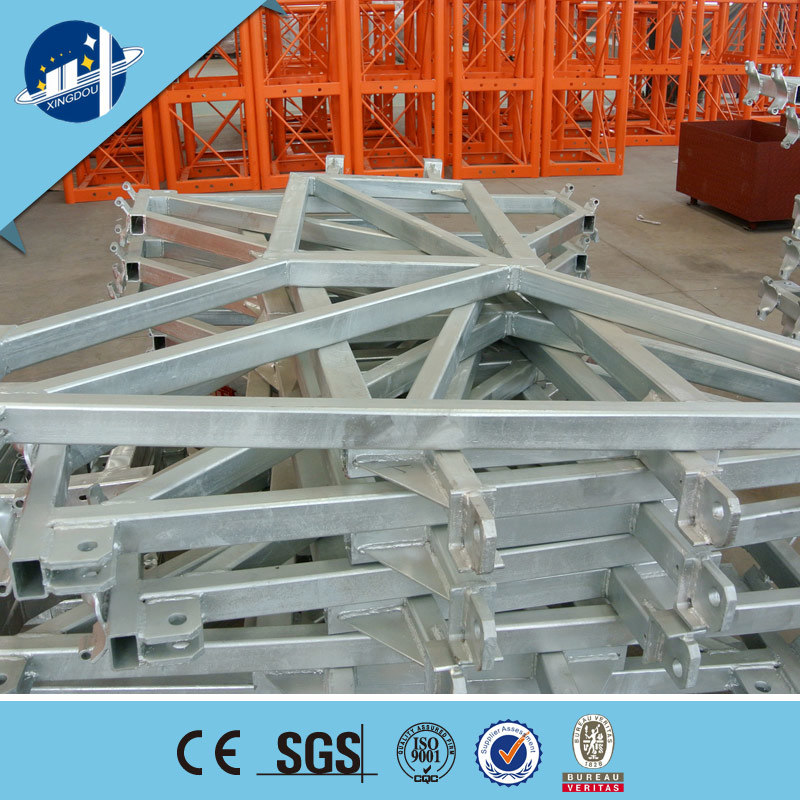 The Mast section(color is variable) is made of HF welding pipe and seamless pipe. (The high quality seamlesssteel pipe is good vertically, anti-pressure, anti-aging, thickness and so on), it offer a well rail for cage climbs on.
650*650*1508mm is the most common size fit for clients.
1. HF high quality tube&pipe Q345B good vertical.
2. Steel plate Q235B with high quality from Baosteel Group, steel plates are bent of U shape to stren-gthen the mast section
3. Mast section with galvanized coat or heat spray coat can be chosen
4. Steel round bar Q235B with high quality and strengthen the mast section
Other model of mast section can choose:
450*450*1508mm, 650*900*1508mm,800*800*1508mm
Materials about Rack gear
1.Model: 40*60*1508mm, or 40*60*1483mm or OEM according to drawing or sample
2.Materials: CL60 special rail steel,60# high quality carbon steel(common use)or other type C55,C50,C45 according to your requirement.

C.Completed safety measures of building lift platform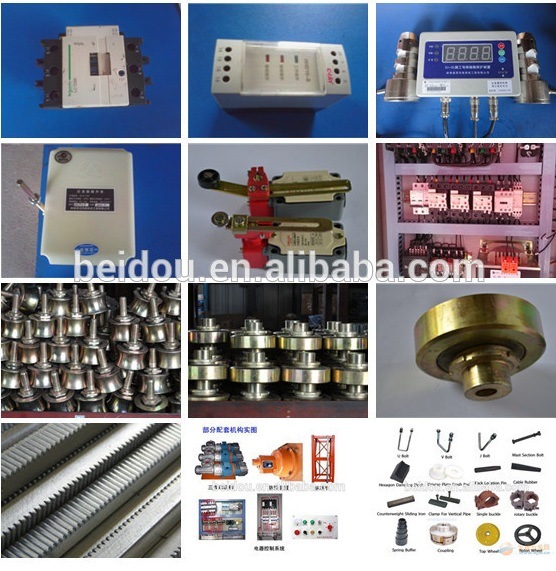 1. Equiping with Anti-falling govenor
2. Electrical an Mechanical interlock: Door safety switches, Slack rope switch
3. Safety hook
4. Upper and bottom limit swithes, trap door limit switch
5. Overload protector
6. Bottom Buffer
7. Level Calling system and auto leveling device to be choose.
D. Different driven system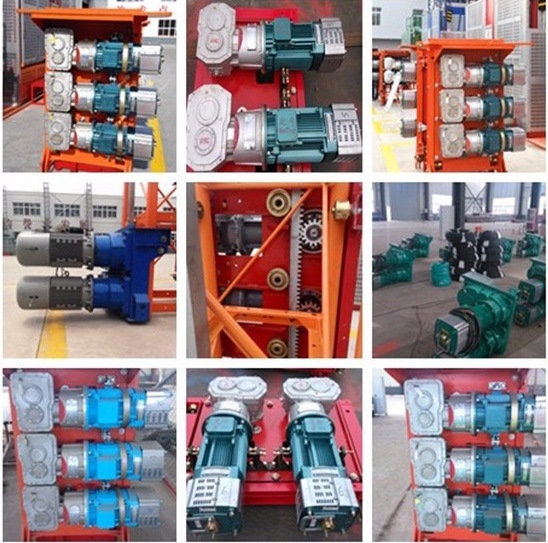 High efficient&energy saving models:
1. 2000kg load per cage can choose motor: 3x8.5kw, 2x11kw, 2x13kw with energy saving characters. 3x11kw with common character. (With gearbox more than 90% energy usage rate) low speed type
2. 1000kg load per cage can choose motor: 2x8.5kw, 2x11kw with gearbox more than 90% energy usage rate.) low speed type
3. 1500kg load per cage can choose motor: 2x13kw, 2x15kw with gearbox or worm reducers. Low speed type
4. 2000kg load with mid-speed: 3x15kw,2x23kw and 2x26kw with high efficient gearbox.
Note: (SEW,NORD OR KOREA BRAND MOTOR COULD BE CHOOSE)
Product advantages
A. High-quality configuration
There is PLC system in the construction hoist without inverter. It keeps the hoist running smoothly when starting and breaking.
The mast section is welded by robot, and there is rarely deformation of the mast section mode
B. High stability
The rack's raw material adopts 60# steel, and the general error within 0.3-0.4mm is more accurate than normal error
The mast section stulls are change to U-shape structure refers to the Alimak Hek technology, and they can be more solid than domestic general types
C. High security
When the hoist moves too fast, or overruns the limit speed that we set, the safety device will start to work and stop the hoist.
The limit switch will make the hoist stop when it moves to the top and bottom of the mast sections.
The overland alarm apparatus.
The hoist still supports lighting when it stops running with the door open.
Packing & Delivery
packing
container

Shipping

Usually ship by MAERSK/MSC/CMA/APL depending on customer requirement

For standard items,shipment will be arranged within 7-10 days after production

B/L number will be provided about 5 days after shipment.
FAQ
We are professional construction hoist manufacturer.We pay our all attention to the hot sell bridge elevator for lifting people and material for construction design manufacture,maintenance and after-sales service.

You can get high quality products and professional service from us.
Any question from you is welcome and will get reply within 24 hours.

Iris Cui



mobile:86 17660908058