FUJI Lift Company as one of the recognized global leaders in elevator and escalator manufacturing, is famous for its advanced technology and superior quality; FUJI brand is getting more and more popular in the market by the good service, user-friendly design and excellent performance. We are proudly enjoying the respect from other elevator companies through our spirit of keep improving perfection and a professional R&D team featuring high quality, responsible and innovative.
FUJI Lift , Smooth Start, Quiet Moving
FUJI passenger lift special frequency changer takes the control theory of the advanced technology as the foundation. The start, acceleration, brake curves are designed according to the ergonomic theory in order to get the finest coziness. It is a genuine current vector control variable frequency drive system.
FUJI Control System
The permanent magnetic synchronous drive saves up to 50% in energy consumption.
VVVF drive ensures FUJI Lift operate more smoothly. Nice noise control brings passenger peaceful riding experience.
Highly integrated 32 bit micro networking control system ensures faster data processing time and enhanced functionality.
The speed control system is developed based on distance control and high precision elevator car positioning detection technology efficient operation, excellent riding comfort and accurate car leveling.
The professional intelligent group control management system can control 8 elevators. The advanced artificial intelligent and traffic flow database technology increases greatly the traffic efficiency thus minimizes the waiting time.
Top Advanced Door Operator System
FUJI Lift applies the advanced VVVF variable voltage and variable frequency control technology to the elevator door operator system so as to ensure the smooth elevator door and quiet switch. What is more, the self-learning door load detector increases the sensitivity of the elevator door switching on/off. It monitors the variation of elevator door load on every floor. Automatically rectifying the most appropriate open / shut speed in every floor so as to guarantee the security and reliability.
Permanent magnet synchronous gearless traction machine
We choose rare earth material and fully combine coaxial transmission technology and digital variable frequency technology with group computer combined control technology. With less running cost & less energy dissipated. Compared with the ordinary and traditional technology, gearless traction machine can save more than 50% of the energy. Gearless traction machine needs no renewal of lubricant. Without grease pollution, low noise, quiet & natural.
Lift Specifications
Rated Capacity: 260kg~2000kg
Rated Speed: 1.0m/s~6.0m/s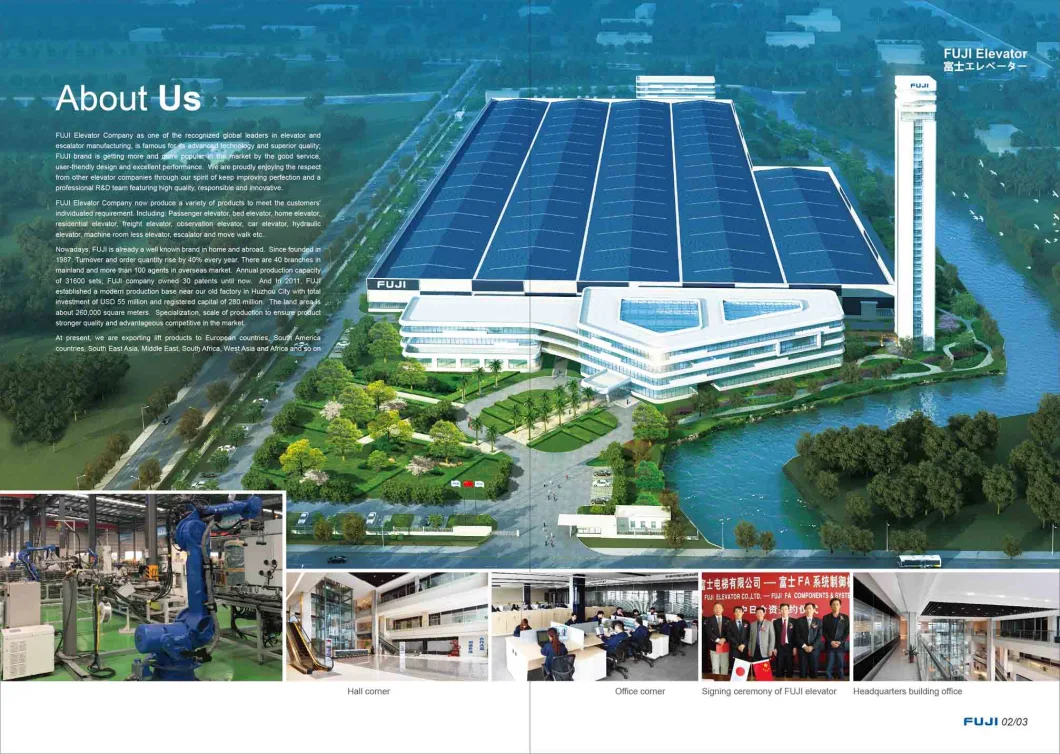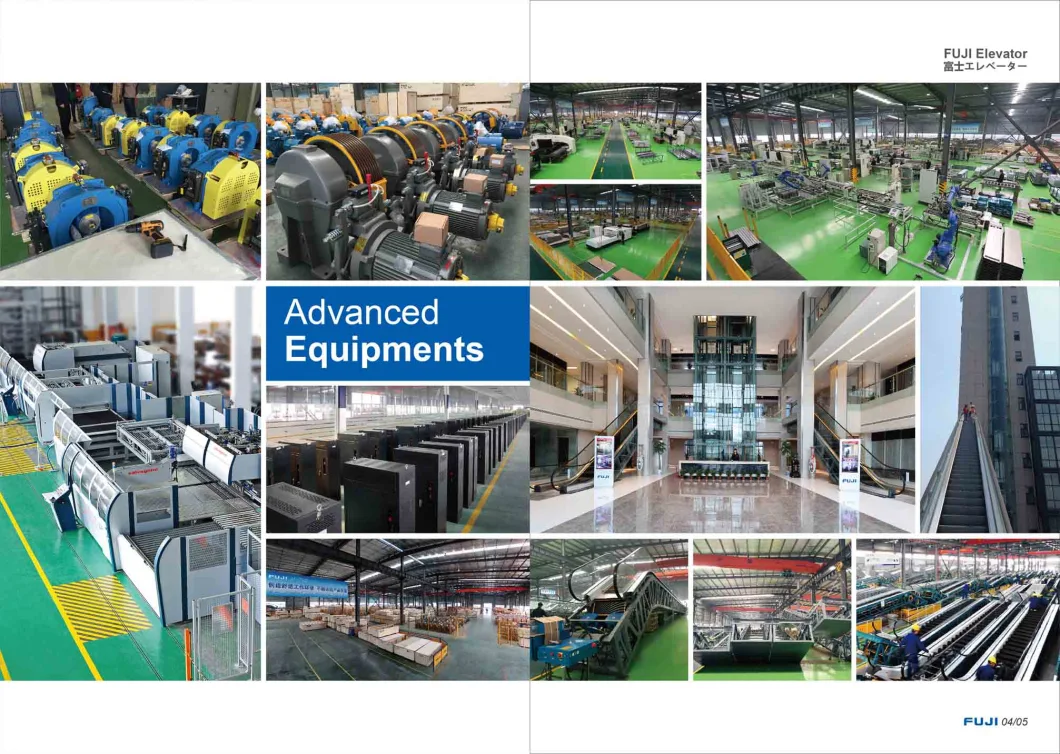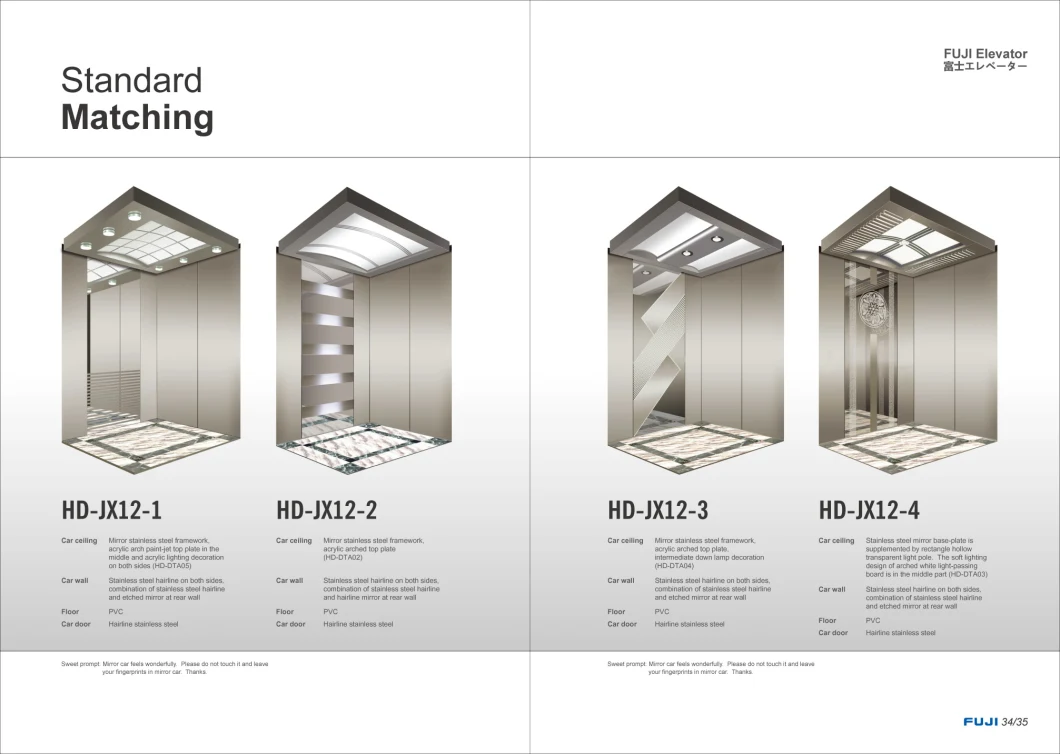 Our Services
As one of the biggest manufacturer of elevator & escalator, Fuji Elevator hews to stringent safety criterion in international elevator industry.In order to provide professional services for the modernization market, Fuji Elevator has built a professional modernization team with experienced and skilled engineers.According to the various special requirements from the clients, Fuji Elevator will provide more reliable, more maturity and more economy solutions.
Installation
The final assembly of elevators are conducted on site, which is the most important chain in assembly. We will send professional project manager to be responsible for internal planning, coordination, distribution of labor, project quality management and safety management of the installation project. Prior to the launch of each project, the project manager shall hold internal inaugural meeting to develop construction scheme and exchange technical documentations, and develop emergency scheme according to actual situations, so as to guarantee the project is completed in line with quality requirements and without delay. We constantly develop the latest elevator installation workmanships in order to remain at the world-leading level. Compared with traditional elevator installation workmanships, installation without scaffold saves a lot of trouble in erecting and dismantling scaffolds, standardizes installation procedures, shorten the installation period and improve its quality. Fuji Elevator will provide you with best product quality, best project quality and best service quality.
Maintenance
We have always attached great importance to the development of maintenance technologies. And, in the light of properties and application environment of different elevators, we has developed unique maintenance procedures as well as special computer and tools. In addition to routine maintenance, we will inspect your elevator periodically with special presumptive diagnostic technology and develop personalized maintenance scheme according to your elevator's operation conditions, to protect against possible troubles and maximize its operation time.
Renewal and Reconstruction
We will appropriately apply new technology, feature and material to in-service elevator to expand its functions, improve operation reliability and traveling comfort, and further satisfy special demands of customers.