China Made Cheap Cost Price Panoramic Observation Glass Elevator Lift
Model: 21G006
Syney is always being dedicated to manufacturing high quality and superior performance and in accordance with international and professional standards. Different workshops, including electronic workshop, electronic control workshop, traction machine workshop, door system workshop, truss workshop, sheet metal workshop, assembly workshop and packing workshop ect. have been set up and full automatic production lines have been introduced as well, which endow Syney with an annual production capacity more than 30000 sets and all-around service capability, contained of , , , , , , ,

,

, and .
cabin design
Features
1. Safe and reliable
Syney panoramic elevator puts safety the first place, to ensure each passenger's safe delivery to destination.
2. High performance
Syney observation elevator is euipped with stable control system with maximum capacity 1600kg. Intelligent lift dispatching system provides the best solution for customer riding.
3. Humanized car door safety sensor
Car door eaves area is monitored by infrared beam. Once obstacles detected during opening and closing, car door will stop and slowly open the door.
4. Wide view, extraordinary enjoyment
Full range and multi angle sightseeing outside the elevator brings passengers pleasure and novelty. Square or round cabin, with a variety of style for your choices, meet your diverse visual requirements.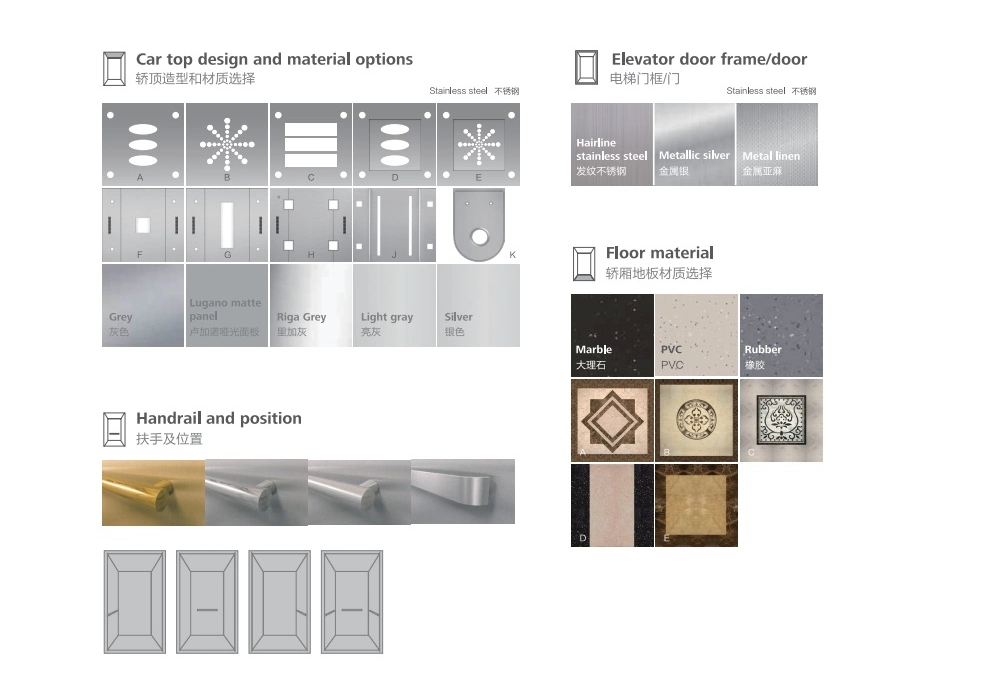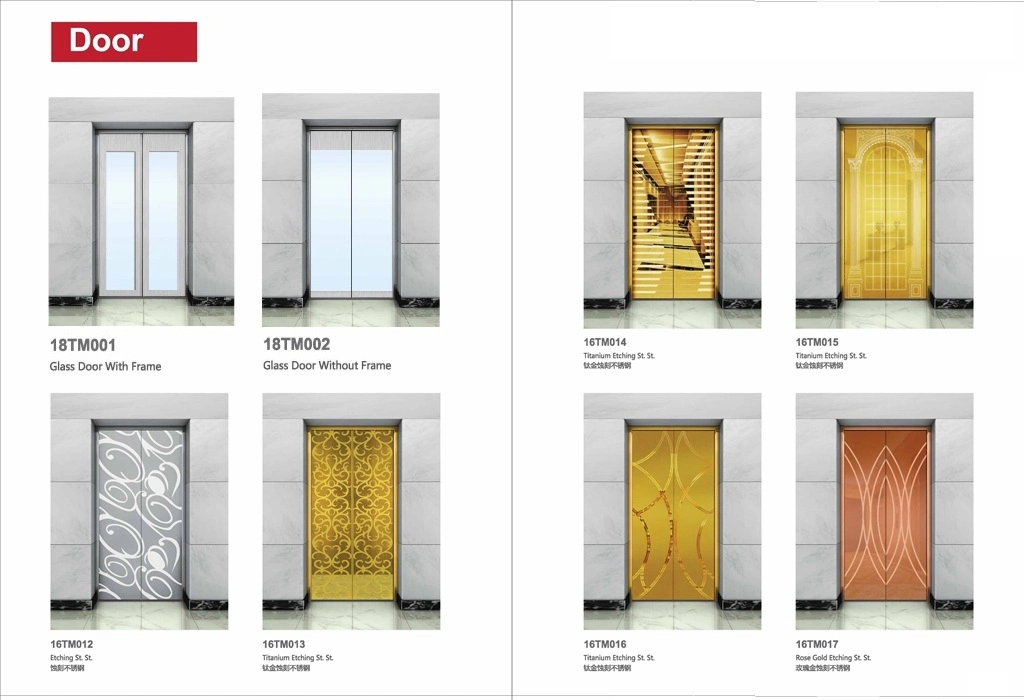 With Machine Room
Capacity
Speed
Cabin Size
Shaft Size
Max Travel
Min Floor H
DL
V
Width
Depth
Open
Width
Depth
Pit
OH
MRH
Max R
Min D
(kg)
(m/s)
(mm)
(mm)
(mm)
(mm)
(mm)
(mm)
(mm)
(mm)
(m)
(m)
630 Round
1
1150
1500
800*2100
2250
2050
2000
4900
2800
50
2.7
1.5
2100
5000
70
1.75
2200
5100
90
800
1
1150
1800
800*2100
2300
2350
2000
4900
2800
50
1.5
2100
5000
70
1.75
2200
5100
90
1000
1
1300
1900
900*2100
2450
2450
2000
4900
2800
50
1.5
2100
5000
70
1.75
2200
5100
90
1150
1
1400
2000
900*2100
2400
2550
2000
4900
2800
50
1.5
2100
5000
70
1.75
2200
5100
90
1350
1
1500
2100
1000*2100
2650
2650
2000
4900
2800
50
1.5
2100
5000
70
1.75
2200
5100
90
1600
1
1500
2500
1100*2100
2700
3100
2000
4900
2800
50
1.5
2100
5000
70
1.75
2200
5100
90
Note:
Above standard specification is only for reference. If shaft size at jobsite is different , please contact with us, factory will design suitable one according to your parameter.
Manufacturing, Packing and Delivery
From the raw material getting into factory to finished products getting out to customers, Syney has a strict operation system to control each steps.



No rejected raw material will be accpeted!


When raw material comes to factory, QC department will check all the materials, once any fault items found, it will be returned to suppliers at once. Only qualified material will get into raw material warehouse.



Production management


Every week, production department will make the production plan and update the schedule of online products. There is daigital board in each workshop showing the production plan everyday. In this way, from workers to managers all clearly know which project is online now.
Every moring, managers will guide the workers to run for 15 minutes first to refresh. Then check the machines status before operation and check again after one day job.



Packing


All parts are packed in solid plywood boxes, which can stand long time sea shipping and fumigation free. For some important parts like control cabinet, door operator and motor, parts will be covered by a strong film first, with desiccant, before put into boxes.



Quality control


1) All raw materials will be checked before get into warehouse. And bulk electronic product do sampling inspection. All parts must have qualified certificate from suppliers. QC1 is responsible for this.
2) During production stage, QC2 will check commissioning for each elevator, escalator and moving walks.
3) After elevator and escalator finished, QC3 will test the match of elevator motor and control cabinet, and the running condition of escalator and moving walks.
4) After packed, QC4 will check package condition for each parts, and takes photo for further reference.
5) When delivery, QC5 will check if all parts packed in container to avoid any missing, and takes photo for further reference.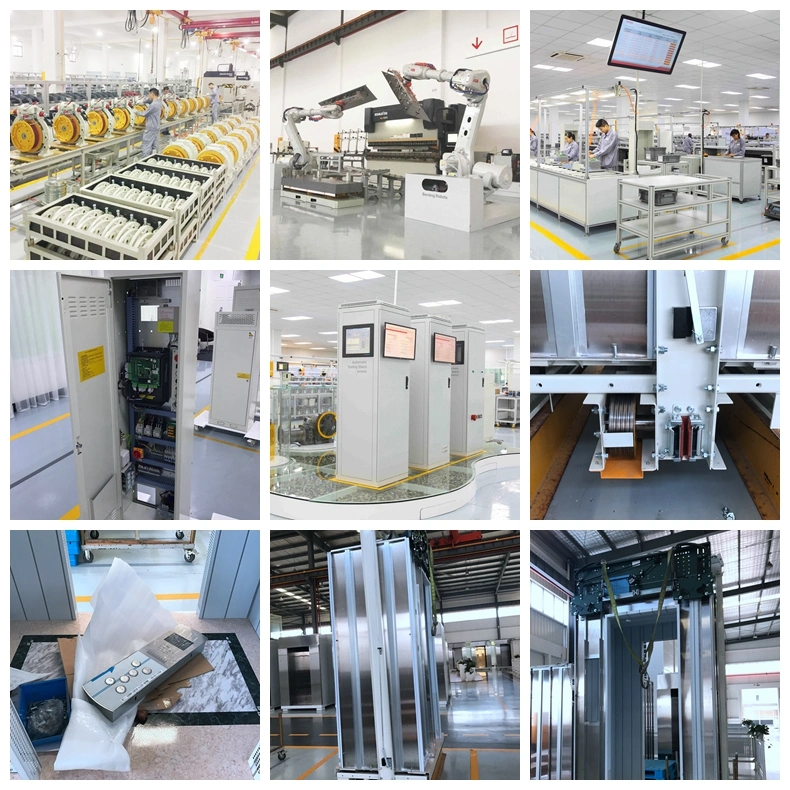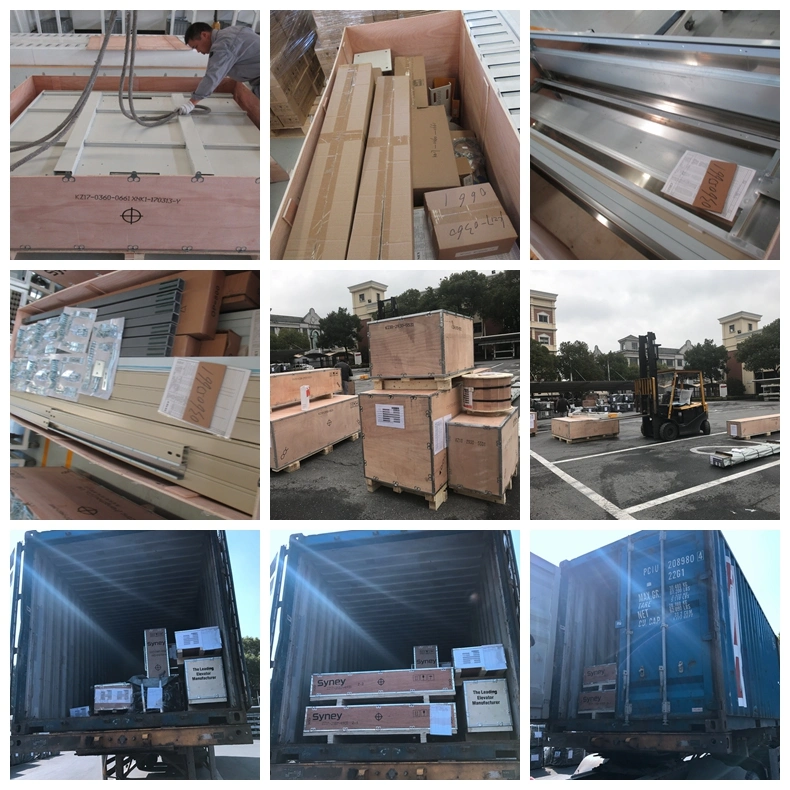 Company Profile
is a professional enterprise integrating R&D, design, manu­facture, marketing, installation and customer service. The company applies whole set of advanced equip­ments and specializes in design and manufacture of products including
, , , , , , , ,
, , etc.

Depending on advanced technologies, modern equipments, standardized management, precise brand location and perfect marketing and service network, Syney business keeps steady growth. Syney network not only covers the whole country, but also expands to over 50 countries in Europe, Asia, Africa and America. Syney is one ofthe most development potential elevator companies in China.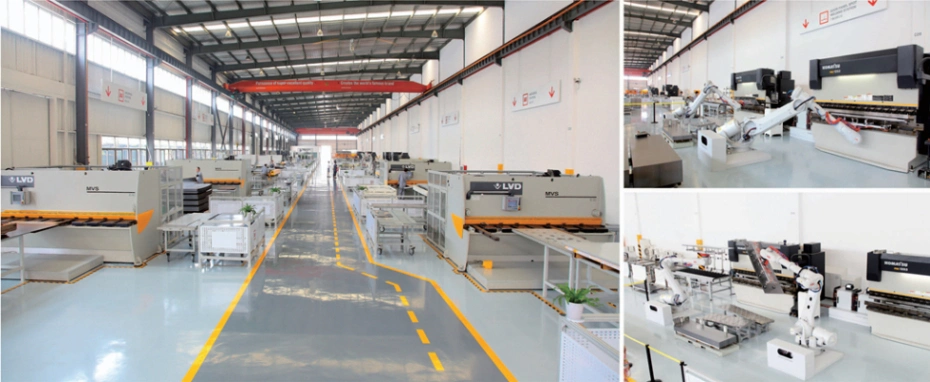 Certificates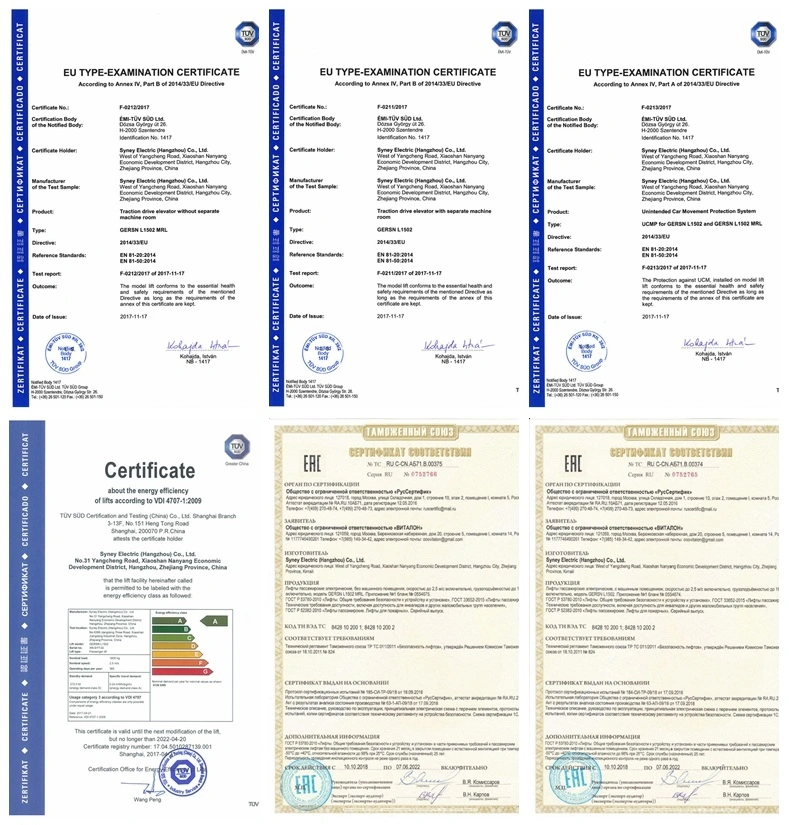 Germany TÜV SÜD is one of the strictest certificates worldwide, which is widely accepted in Germany and European countries. Once the elevators, escalators or parts are with TÜV SÜD mark, they are exempted from inspection. TÜV SÜD mark, which Syney has gained, indicates that Syney has moved its quality certification system forward to a new stage, and met the international certified bodies' requirements.
CE Certificate of Elevator with machine room and Elevator without machine room

CE Certificate of Elevator UCMP device

CE Certificate of energy-efficiency of lifts: Grade A

EAC Certificate Elevator with machine room and Elevator without machine room
Projects
1. How to get fast reply for inquiry?
Send complete information to us, like below example:
Shaft

Not designed

Under construction or Finished

Elevator type

Tell us the capacity you need or for how many persons, also you can refer to our standard size as below

Round or square cabin

Machine room

With or without

Capacity/persons

1000kg/13persons

Floor/stop/door

6 floors 6 stops 6 doors

Speed

1.0m/s

Cabin door

one cabin door

Shaft size

(W)2450*(D)2450

Overhead height

4500mm (possible to change)

Pit depth

1500mm

Each floor height

≥2700mm

Decoration

Cabin

Stainless steel+laminated glass

Cabin wall

Stainless steel

Main landing door

Stainless steel

Other landing door

Painted steel

Floor

PVC tile

Other requirements

any special requirement, just let us know

2. How to place order
1) confirm the elevator specification and drawing;
2) sign contract with Syney;
3) production arranged after contract confirmed and payment received;
4) after products finished, inform the customer about the delivery time and book ships;
5) arrange delivery and send documents to customer after shippment;
6) follow up with customer for after sale service.

3. What's your delivery time
Usually 30 days after the arrival of deposit, but urgent production is also avaible. As the biggest and best China elevator and escalator supplier in world, Syney has the ability to support your projects in various ways.

4. What's the product warranty
The warranty for elevators is 18 months after delivery.

5. Installation and commissioning
1) for installation, factory will provide complete set of installation manual.
2) for commissioning, factory can provide remote guiding.
3) for special projects, factory will send engineers to site to help installing.
4) for all our agents, Syney welcome you to send your technicians to our factory to get training. Syney will cover the accomodation and transportation in our city.

6. After sale problems
Please tell us the contract number or product serial number, factory can check the product specifications according to the code.

7. What is your advantages